---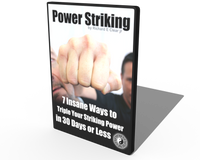 7 Insane Ways to Triple Your Striking Power in 30 Days or Less
Each of the exercise in this program has been carefully chosen because they will provide a significant increase in your power within 30 days of hard training.
Most of them will continue to provide power gains for months and years to come if you continue to work with them.
These exercises are designed to focus on key principles of human body movement and power so that you will gain benefit no matter what art you do.
You will learn:
7 Basic ways to increase hitting power that are simple to learn and practice
7 INSANE ways to skyrocket your hitting power
Some of these practices are very uncommon or misunderstood, but you will get in depth instruction that will, with hard work and dedication, be guaranteed to launch your hitting power into levels you may have never even seen.