---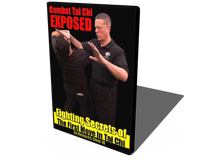 WARNING:
If you view this training even ONCE,
you will NEVER look at Tai Chi Chuan the same way again!
Your eyes will be opened to how the Forms REALLY work for fighting!
Tai Chi is a VICIOUS martial art...
Just by watching this video, you will get the nasty, dangerous reality of how Tai Chi was used in the old days.
You may find yourself going over all of your forms, letting these new applications change the emphasis in each little part of every move you know!
In this program I pull back the curtain and show it all!
Fight Ending POWER:

 

How to take almost any move in any set you know (and yes, especially the weird ones), and see the hidden potential behind each one!
​Combat Tai Chi REVEALED:

 

Get Street Effective applications for Tai Chi! Knowing how these applications work is instrumental, not just for protecting yourself, but for doing your Form right in the first place!
​Simple, Easy to Follow Demonstration:

 

Get it just by watching the video! It really is just that easy.
Take your skills to the next level with this powerful training program!