---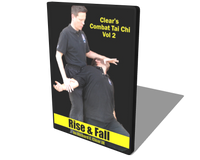 Combat Tai Chi Vol. 02: Rise & Fall
In this video Master Richard Clear breaks down the movement "Rise & Fall" a.k.a. "Place Hands on Jade Table" and teaches you just how deadly it can be.
You will learn
Quick & effective street applications
Dim Mak
Fa Jing
Power Displacement
Poison Hand with Rise & Fall
and how to use Peng, Lu, Ji & An to enhance your street applications.
Runtime: 156m
Learn More