---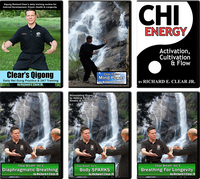 Sale
Clear's Health Package
A long and healthy life is the true goal of all martial arts.
Self defense is only half of the picture. The practice of Qigong is what skilled martial artists use to fill in the gap.
In addition to being a self defense expert, Sigung Richard Clear is a true Master of Qigong, the ancient art of health and healing. For the first time, we have put together Richard's personal health practices into a single package.
These are the critical exercises that Richard does EVERY DAY, and most of them can be done while doing other day-to-day things.
Get healthy and fit while building Internal Power with the Clear's Qigong and Health Package.
DVDs included:
Clear's Qigong: Daily 24/7 Training

Diaphragmatic Breathing

Body SPARKS

Breathing for Longevity

Mind Power

Chi Energy Activation, Cultivation, and Flow DVD