---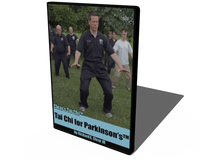 Master Clear began his study of Tai Chi at a very young age after he was diagnosed with degenerative arthritis.
He experiences no pain as a result of the arthritis & is healthier than the average person half his age.
Master Clear has been teaching Tai Chi since 1985 and has over 40 years continuous study in martial arts, psychology, philosophy, alternative medicine and physiology.
He has developed a method that can be practiced even by those in severe condition who cannot stand or walk.
Tai Chi has been proven to positively affect:
Cardiovascular Disease
Osteoporosis
Arthritis
Depression
Fibromyalgia
Parkinson's Disease
& aid in Fall Prevention
Most patients have seen positive results during the first session of Clear Tai Chi™
Tai chi is endorsed by the National Parkinson's Foundation as an add-on therapy for easing problems associated with the disease.

A study published in the New England Journal of Medicine suggested that patients practicing Tai Chi experienced slower rates of decline in motor control.

Tai Chi strengthens legs and improves coordination for better balance as well as reduces stress and anxiety.